This recap may see the light of day to shut Lauren up. Steelers looking to go 3-0 for the the first time since the early 90's. We thought that it would be a close game but we also thought that Kevan Barlow would have an impact. Apparently one of the Lineman from San Fran can bench over 800 pounds.
Storm Troopers...your thoughts on this?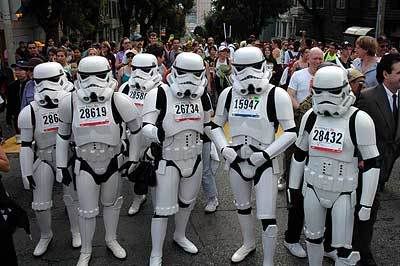 Nope, Not impressed.
Lets do work
Niners win the toss and elect to receive. 23 yard return, tackle by Gay and Harrison. Alex Smith starts a drive from the 25. Hits Vernon Davis for a 31 yard gain bringing it to the 15. Steelers step it up and forcing San Fran to settle for 3. Nedney comes on and nails a 32 yarder. But before you can throw your controller against the wall Rossum returns the kick for 6. PAT good.
Niners get the ball and go 3 and out. Steelers ball. Ben gets stripped, 1st down San Fran. Starting at the 22 Smith gets into a 3rd in long but finds TE Davis for 11. 1st down. Steelers come up big with another stop forcing another field goal attempt. Good from 22.
Davenport returns it 12. Steelers don't get much going and punt. Niners ball and Steelers D steps it up forcing former Pitt punter Andy Lee on the field. Steelers ball and yeah, punt. No gain on the return Niners start at the 32. Niners punt sending it to the endzone. Steeler ball on the 20. Steelers pull out some trickery with an end around but get no gain. Wilson was running everywhere but couldn't find a hole. Not a bad play. 2nd and 10. 5 yard penalty on Smith followed by a 5 yard penalty on San Fran. 1st and 10 Ben hits Heath for 25 moving the chains for the first time in ages. Steelers convert on 3rd then find Tuman for 6 from the 9. PAT good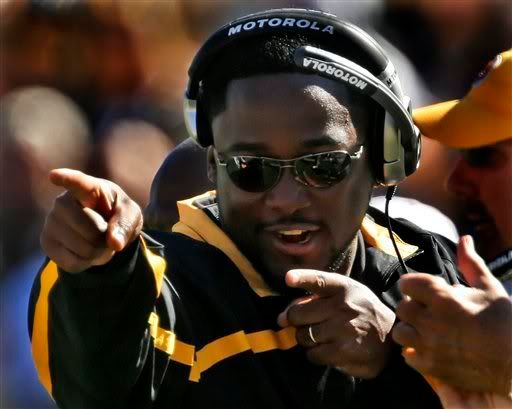 14 - 6
Great 1st half for the Steelers. Huge touchdown before the half. We didn't even know Tuman was still in the NFL.
Steelers receive. Touchback. Steelers eat up some clock with a string of running plays but go to Miller twice to bring the ball to the 18. 3rd down Hines gets cracked over the middle, ends up leaving the game with a bruised bone or something like that. Reed goes for a 36 yarder.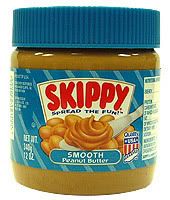 Good
17 - 6
Niners start from the 22 and get a good drive going. Defense picks wakes up. Nedney comes on for a 49 yarder. And I believe that this is the same douchebag that screwed us over in the Playoffs a couple years ago when Dewayne Washington "ran into the kicker". What a dick. Back to the game Dickhead connects from 50.
Steelers ball. Davis checks into the game catching a 10 yard pass form Ben. Ben hits Santonio two times bringing the ball to the 36. Parker runs it for 3. Incomplete. Reed steps on for a field goal.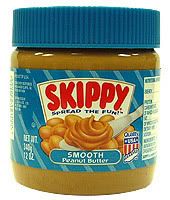 Good from 49
20 - 9
Niners ball. String of 1st downs bringing it to the Pittsburgh 33. Incompletion followed by a sack. Lee punts. Touchback. Parker starts off with a 15 yard run. Ben catches fire finding Holmes and Miller for big plays. Nasty Nate drops an easy 6. Reed attempts from 35.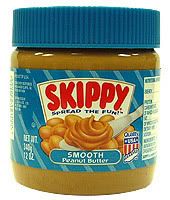 Smith throws it right into McFadden. McFadden runs past countless defenders for a touchdown. Izzy almost shit himself because that is huge fantasy points for his league. PAT Good.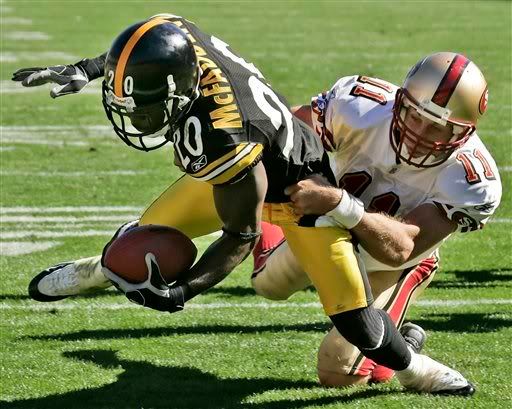 Niners ball. Smith torches the secondary but to little to late. Finds some ass clown in the endzone. PAT Good.
Steelers grind it out and run it but Davenport breaks loose for a 39 yard touchdown.
PAT Good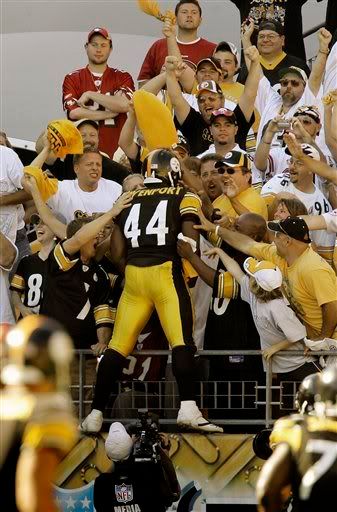 Game
Game Stats
Passing - Smith 209 1 TD 1 INT
Rushing - Parker 133 yds
Receiving - Miller 82 yds
Game Notes
- Ward leaves game early
- Steelers come up with 2 D/ST touchdowns
- We're back